01/06/2022
Congratulations to our LuvTrails-Trailcare 2021 Top6 Donors
FORT COLLINS, CO – Congratulations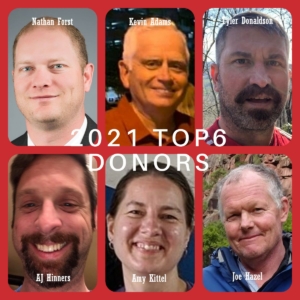 to our
#TOP6
donors of 2021! For the second year in a row Nathan Forst of Bentonville, AR is our Top Donor. Congratulations, Nathan! Thank you for your huge contribution to keeping the much-needed volunteer trail work going. Most of his donations went to his home club
FAST Group – Friends of Arkansas Singletrack
. But he also ventured to other popular places where he contributed to the trail maintenance work.
2020 was the first year that we started to keep a log of trail users donating on our LuvTrails-Trailcare donation platform to support the work of volunteer trail groups. And despite Covid, 2021 was an even better year by the sheer amount and value of donations.
Third of the Top6 was a relative newcomer to LuvTrails, Tyler Donaldson of Asheville, NC. He donated to his local groups,
Pisgah Area SORBA
and
Friends of DuPont Forest
, and like Forst, he also ventured into the neighboring territory to contribute to local groups.
From the LuvTrails-Trailcare Team and all the volunteers you have touched with your generosity, we thank you all. You are real trail bosses. Keep inspiring the rest of us to do even better!