How to sign up for Trailcare per-mile donations
Follow the 5 easy steps below to get started
Step 1:  Go to www.trail.care – click on the orange Strava link.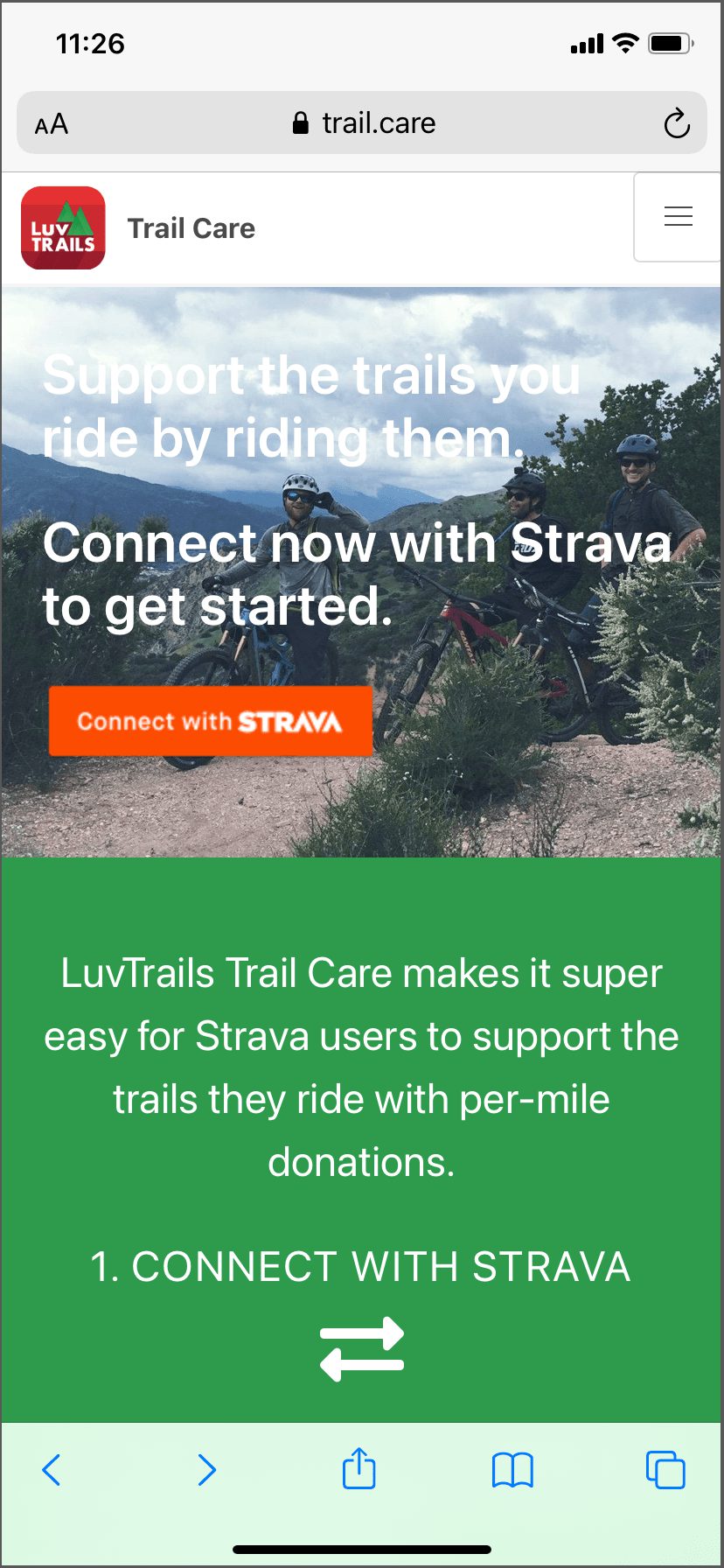 ---
Step 2:  Tick the boxes and authorize them by clicking on the orange "Authorize" tab.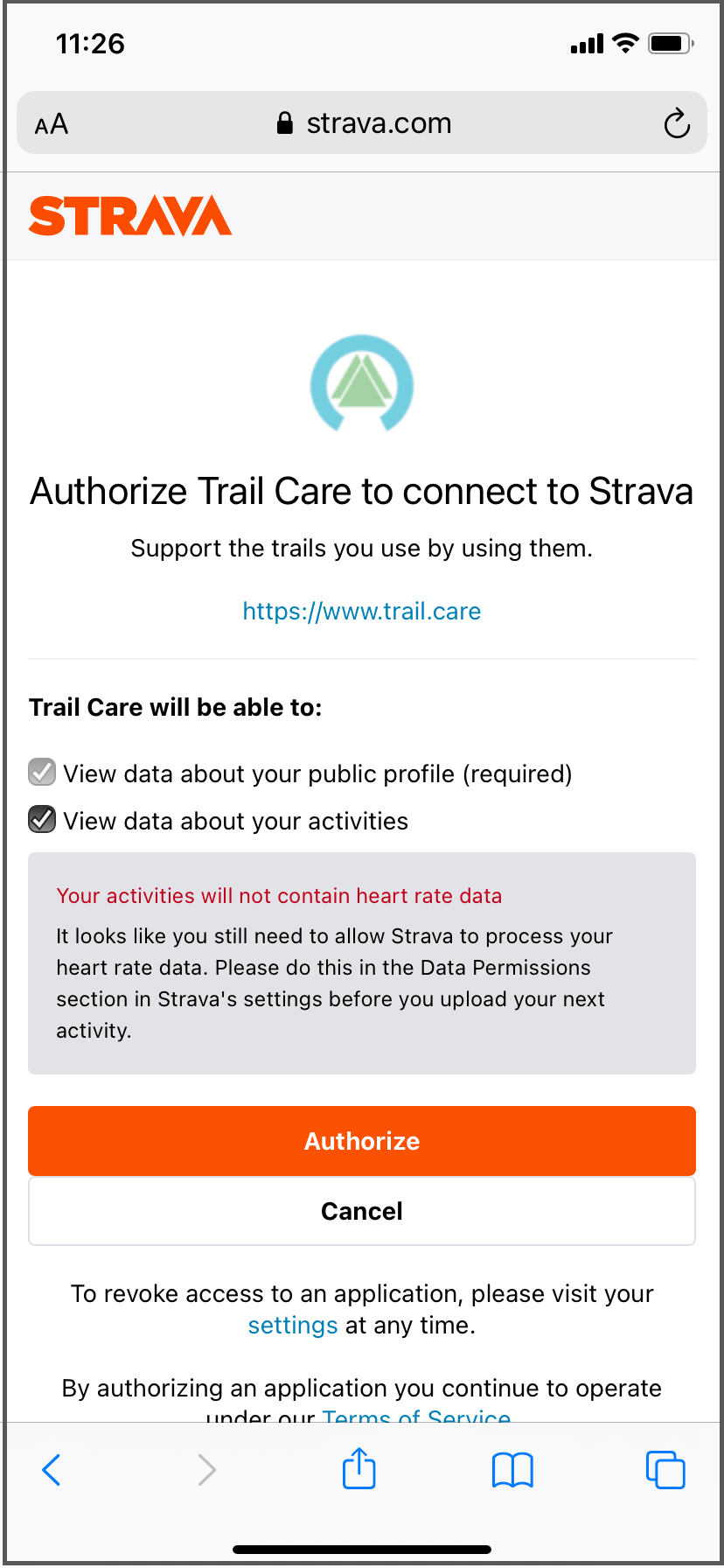 ---
Step 3: Enter the same email that you use to log in to your Strava account and click "Add email".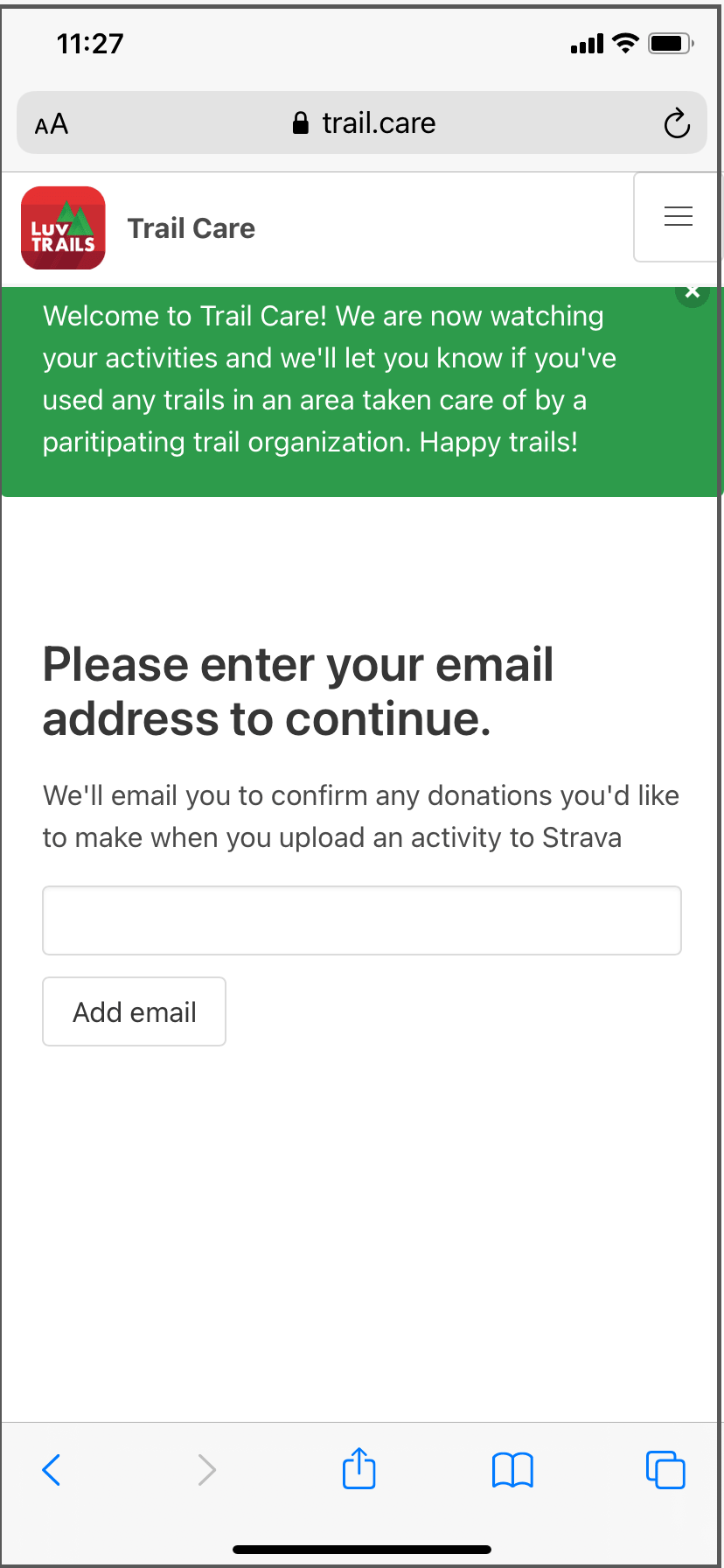 ---
Step 4:  Add a debit or credit card to which your donation will be charged.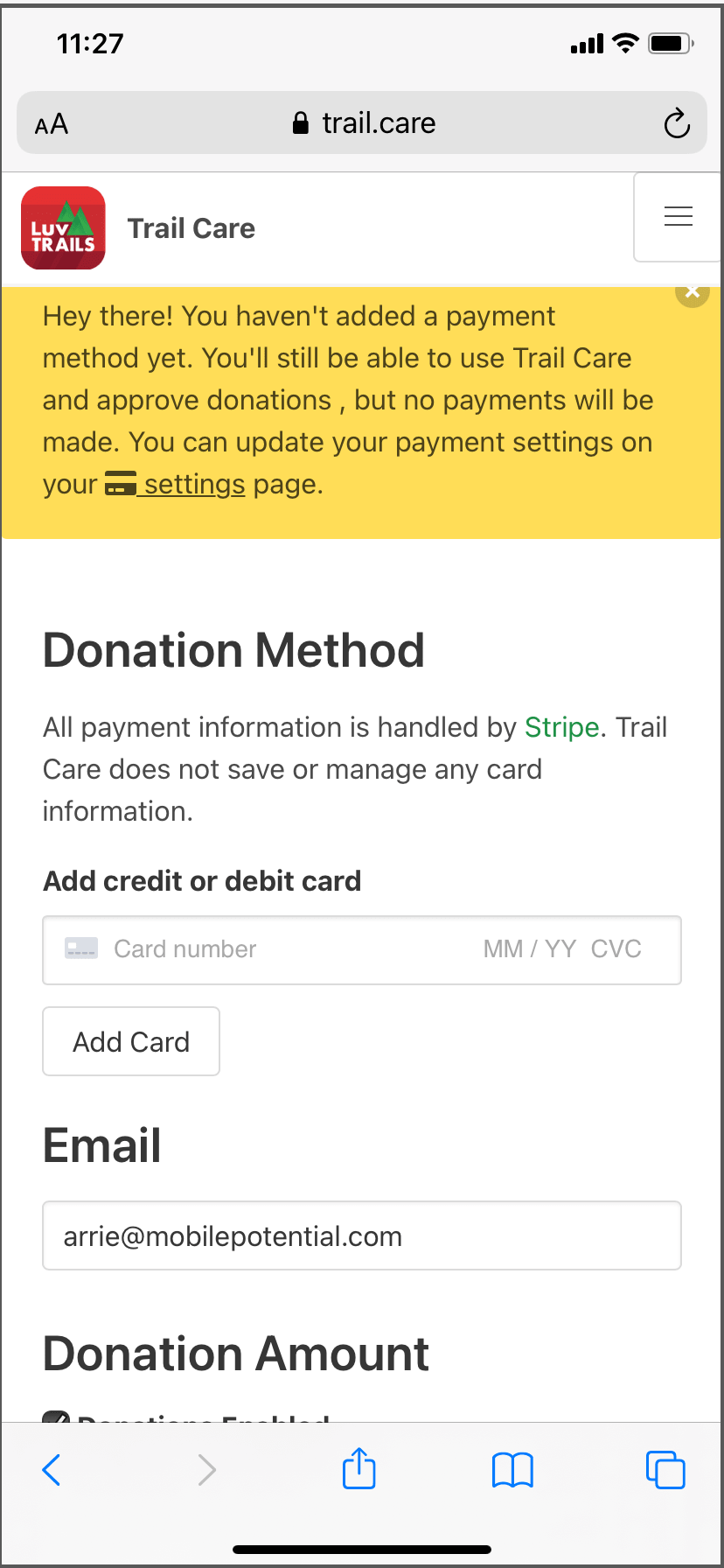 ---
Step 5:  On the same page, tick the "Donations Enabled" box and fill in the amount (cents) per mile you will donate. Click on "Update Preferences".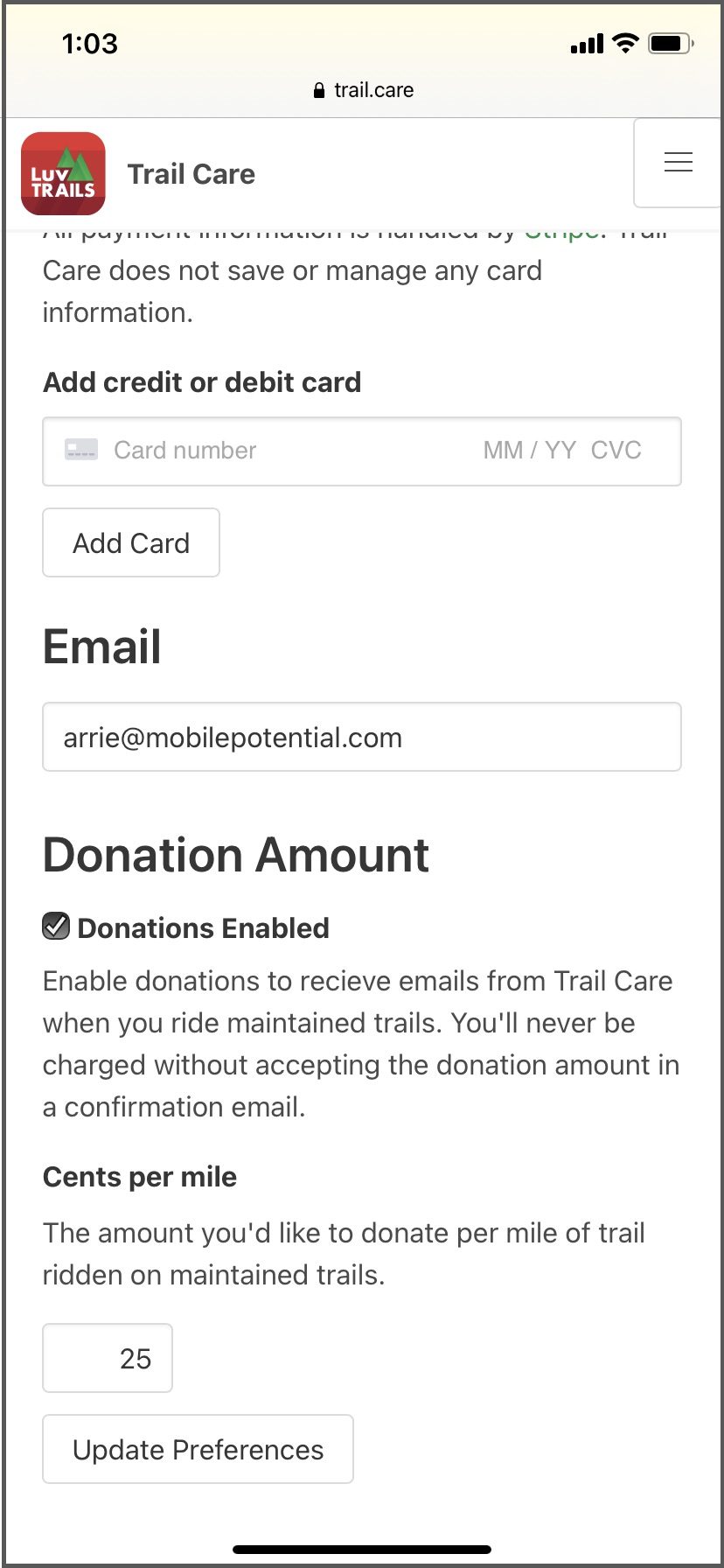 What is LuvTrails Events?
LuvTrails Events makes use of our Trailcare geofencing app to organize ("virtual") fundraising events for the benefit of our volunteer partners. Trail users that sign up at www.trail.care can ride/run/hike/walk anywhere inside the geofenced area and donate per mile to the local trail group.
What if I don't see the notification email?
If you don't see the Trailcare email with the suggested donation in your email inbox after your activity check in your Spam folder or do the following checks:
If you use Gmail look in your "Promotions" folder for an email from "Trail Care <[email protected]>".
It could also be in the "Spam" folder, which means you have to change the settings to allow Trailcare emails.
Make sure to use the same email address throughout the sign-up process, for the Strava account and the Trailcare notifications.
How do I sign up for per-mile donations?
Sign up for per-mile donations at www.trail.care. Follow 5 easy steps to link your Strava account, a debit/credit card, and pledge an amount per mile as a donation. For instructions go to this page.
How can I get a copy of my donation receipt again?
For a quick reference and reminder, we keep a record of a donor's donations for the current tax year in "My Donations". For a copy of the receipt issued by the non-profit you made the donation to you have to contact the organization directly.
What is Trailcare?
Trailcare is a "geofence" tool to make donations to trail groups by linking a Strava account. By signing up at the Trailcare website a user allows LuvTrails to detect their activities from a GPS device and notify them via email or the LuvTrails App of a suggested donation per mile ridden/hiked/ran within a trail group's "geofenced" trail area. For more information go to www.trail.care.
Can I use other GPS fitness devices to log miles for donations?
Yes, Strava allows most other devices to sync with its database which is used by our team to calculate a rider's miles. Go to Strava to see what and how to link your device. For more information on how to link your Strava account to our Trailcare platform read more here.
How much of my donation benefits the beneficiary non-profit organization?
More than 90 percent of the donation eventually benefits the work of the non-profit organization after bank fees, credit card transaction cost, and app service fees have been met, depending on the arrangement the volunteer organization has with service and payment providers. Despite claims by some that "100 percent" of your donation goes to the volunteer group, it is simply not true. Where LuvTrails-Trailcare makes a difference is that your donation is immediately available to the group.
How long do donations take to process?
Like any online payment the donation reflects immediately in the donors credit card account. All donations to the listed non-profit organizations are reconciled daily and reported to the listed organizations. The total donations are consolidated month end, service fees are deducted and the monthly total amount is deposited via ACH to the non-profit's bank account.
Do I have to "Allow" access to my location on my mobile device to enable geolocation of trails?
Yes. For iPhones access Settings>LuvTrails>Location and switch from Never to While Using. For Android visit Settings>General>Lock screen & Security>Privacy>Location, turn ON.
How secure is LuvTrails?
Very secure. We have partnered with Stripe (www.stripe.com) to process our mobile transactions. Millions of companies in over 120 countries use Stripe to run their businesses.
How safe is my personal data?
Completely safe. Our servers are hosted in the Google Cloud. Any connection between you and LuvTRAILS is protected by 256-bit SSL encryption?
Do you share my personal information with third parties?
Yes. We share your information with third parties only in the ways that are described in our Privacy Policy statement.  Read our Privacy Policy.
How will the Land or Park Owner know that I have bought a Pass?
All Passes are stored in the app in the My Passes menu. A copy of the signed Liability Waiver and Pass Payment is emailed to the Admin Office of the owner. Every owner will have its own rules regarding proof of sale.
Do I have to sign a waiver for a Pass that I buy in LuvTrails?
Yes, if the land or park owner requires the user to sign a Liability Waiver an electronic version of the document will be displayed in the App as part of the pass buying process. You will be required to sign the Waiver electronically in the App before the payment can be processed. Once the transaction is completed and the card payment processed you will receive a copy of the Waiver and receipt of the transaction via email.
Can I buy a Pass for a paid-access Park?
You can buy a Pass if the paid-access Park is listed in the App. It depends on the land or park owner which passes it wants to list for sale (day, weekly, annual, family, student, senior, etc). See How to buy a Pass here.

Can I pay with my credit card?
We accept all major credit cards as a payment method. We process transactions through Stripe. We do not process checks or cash donations.
Is my donation tax deductible?
Yes, the entire amount is tax deductible as it is a donation to a qualified section 501(c)(3) organization verified and approved by the IRS to solicit donations from the public. For more information, contact the non-profit organization listed in the App directly.
If I make a donation, how do I know where the money is going?
All trails in the App are listed under a number of Venues. A Venue is a geographical area serviced by a local non-profit mountain bike club or association. All donations in that Venue goes to the local organization listed under that Venue. If you like a listed trail, you will find it under a Venue and a Client (non-profit organization) and your donation goes directly to that organization.
How do I donate?
Once you have registered in the App, you have two options to donate.
1) If you see the green heart-shaped QR code displayed anywhere at the trailhead simply open the LuvTRAILS App, tap the Scan icon [ ] in the upper right corner on the Homepage, point the scanner square at the green QR code and it will take you to the relevant Donations page to make a donation. Provide your credit card information and complete the transaction.
2) If there is no LuvTRAILS QR code on the trail or at the trailhead you can open the App and it will show you at which Venue and Trails you are with the help of the geolocation of your mobile device (if location access is enabled). It will direct you to the relevant Donations page of the local beneficiary organization.
How do we get our non-profit organization listed in your App?
If your organization is a non-profit 501(c)3 active in the outdoor environment, especially in providing trails and facilities for public use, you would probably qualify to be listed and receive donations from the public. To submit your request for listing, please contact us.
My favorite trail is not listed in the App. When will it be added?
We list trails at the request of trail volunteer organizations and land owners. We are working non-stop to get all loved trails listed for donations. Let us know the name of the trail or organization you would like to see in the App by emailing us ([email protected]) and we will speed up the process.
Why do I have to provide my email address during the Registration process?
Your unique email address is one of the best ways to identify you as a user. It also allows LuvTRAILS to confirm your email and identity for security reasons and counter bot activity. And we mail you confirmation of your purchases.
Do I have to register in the App?
No, you can download the App without having to register, but then you have limited use of the functions. You won't be able to donate to your favorite non-profit or volunteer organization, or buy a pass to a paid-access bike park. Registration provides full access to all functionality in the App.
Is the LuvTRAILS App free to download?
Yes, a free version is available to download in the Apple App Store (iOS) and Google Play Store (Android).
Who can use the LuvTRAILS App?
Anyone with an iPhone can use the App to donate money to a participating non-profit organization. (Support for the Android version has ended).
If LuvTRAILS is a free App how do you make money?
Although LuvTRAILS is a payment system for non-profit organizations, we are a for profit company and charge a small fixed fee on every transaction through the App. We do not charge registration fee to users or any setup, licensing, annual or hidden fees to non-profits. Partner organizations are not required to sign long term contracts and can end the relationship at any time.
What is LuvTrails?
LuvTrails is:
1. A free Mobile App to enable users to make location-based donations to non-profit (volunteer) organizations that are responsible for the construction and maintenance of mountain bike and hiking trails;
2. A payment platform to buy Passes or Permits for access to paid access National, State, County, or Private parks; and to deliver digital rewards from retail partners to App users.
3. Offering the web-based Trailcare tool that allows trail users to link their Strava activities and donate to trail organizations based on the number of miles they completed on trails maintained by those groups. We call it per-mile donations.