LuvTrails Trailblazers Challenge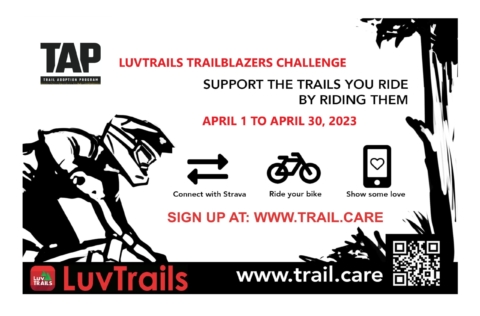 We.are.trailblazers (Trailblazers) hosts a fundraising challenge during the month of April 2023 with their Trail Adoption Program (TAP) and LuvTrails-Trailcare. The event is hosted by Trailblazers and powered by Trailcare, the Strava-linked per-mile donation tool. All donations with the Trailcare application help fund TAP, from the gas for the weedeaters to water for Trail Luv Days. It is a month-long virtual event from April 1st to 30th, 2023. It offers trail users who use the Trailcare donation tool to donate directly to TAP when they do any activity within the virtual geofences of Bentonville, Bella Vista, and Rogers, Arkansas. When you sign up at www.trail.care and link your Strava account you also pledge an amount per mile as a donation to a listed volunteer trail organization. After you record a ride on Strava (must be public), you are sent an email to confirm your donation for that ride. The number of miles you ride in April multiplied by the amount you pledged per mile will determine the total donation at the end of the event. Everything comes down to the choice and effort of each individual participant and you have total control over your final donation. There are great prizes and rewards on offer for the top donors and for the most miles completed.
  No Registration fee. It's fun. And all for a good cause. Sign up today!
1. Schedule
This Challenge starts at midnight on April 1st and ends at midnight on April 30th, 2023. 
This virtual event takes place anywhere within the geofenced* areas of Bentonville, Bella Vista, and Rogers, Arkansas.
* Geofencing is the use of GPS or RFID technology to create a virtual geographic boundary (Trailcare's geofence) which enables software to trigger a response when a mobile device enters or leaves a particular area.
Registration:
There is NO registration fee. BUT in order to participate, you have to FIRST sign up at www.trail.care. You can only participate in the Challenge by signing up, linking your Strava account and a credit/debit card, and pledging an amount per mile. Click here for a SETUP-guide.
Then ride within the geofenced area and record your miles with Strava, or with the GPS device of your choice as long as you synchronize the data with Strava (any free account will do).
LuvTrails will keep a record of all your Strava activities during the event and your name will appear on the Leaderboard below as you progress during the month.
In the first week of May, the category winners will be announced and notified via email. Prize pickup is on a date and at a place to be announced.
Bonus:
For just signing up at www.trail.care or donating as little as $15 you receive exciting rewards from two of our National Rewards Partners:
The Gear Attic
10% off just for signing up to Trailcare and 20% discount to those donating $15 or more.
Cognative MTB
20% off for donating $15 or more and 25% discount to those donating $20 or more.
2. Prizes & Eligibility
Thanks to the generosity of event sponsors supportive of TAP and trail advocacy–and their love for the cycling community of Northwestern AR–we'll hand out great prizes to lots of participants, from top-notch cycling gear and accessories to substantial discounts at outdoor lifestyle stores.
Categories and Prizes:
To keep it simple we have only one category and leaderboard:
TOP DONOR LEADERBOARD (total donation made by end of event)
Prizes: 
1st Prize) SE BIKES BLOCKS FLYER 26″ BMX BIKE supplied by Bison Bikes of Bella Vista, AR.
2nd Prize) A Cognative MTB "GO RIDE YOUR BIKE" Flexfit MTB Hat & Sticker Kit.
3rd Prize) A funky "Oil Slick" MTB Mudguard supplied by Cognative MTB.
TOP MILES LEADERBOARD (total distance completed by end of event)
Prizes:
1st Prize)
– MOOSEJAW Ice Fort 25-Quart Hard Cooler
– Eagle Nest Outfitters hammock
– Eagle Nest Outfitters atlas ext
– 2 x Nalgene water bottles
– 3 x Skratch Labs hydration mix
– Picnic/camping carpet
– Sawyer insect repellent
– Moosejaw sauce kit (sunscreen, hand salve, lip balm)
RANDOM DRAW: There is a long list of rewards for qualifying participants on the Top Donor and Top Miles leaderboards. Names will be randomly selected and the winners will be announced in May.
The prizes are:
New Donor SignUp (only participants that signed up at Trailcare from 04/01/23 to 04/30/23 qualify):
MOJO Kali Full Face Helmet: Invader 2.0 (Matte Black)
Other random winners:
From MOJO:
MOJO hat
Water bottle
Salt Stick- Electrolyte Fastchews
Sticky Fingers lever grips
MSW Windstream Push kit with 2 x 20g CO2
Crank Brothers M17 multi-tool
Stickers and Magnet
From THE HUB BIKE LOUNGE:
2 x Water Bottles with hydration packets
From BENTONVILLE BIKE CO:
Asobu Alpine Flask 18oz
Asobu Super Sippy Tumbler 20oz
JUNK headband
Sockguy Wool socks
Bentonville Bike CO hat
Winners will receive an email confirming their prizes during May 2023. **
Eligibility for Prizes:
To be eligible for leaderboard prizes a participant must donate at least $5 to the Trail Adoption Program (TAP) during the month of April using Trailcare's platform.
The decision of the management of LuvTrails Events is final.
** Employees and contractors of LuvTrails-Trailcare are not eligible for prizes.
3. Rules
LuvTrails Trailblazers Challenge is an official fundraising event for the Trail Adoption Program (TAP), managed by Trailblazers of  Bentonville, AR. The Event is based on Strava activities within the Trailcare geofenced areas of Bentonville, Bella Vista, and Rogers, AR.
Timing:
There is no official timing for this virtual event. Participation is based on the unique Trailcare geolocation tool tracking participants' activities within the geofence and keeping a record of the distance every participant completed during the entire month of April. It is in essence a distance-based event, but it also keeps track of each participant's donations (after each activity) during the month. Throughout the event, it will display a leaderboard of all the donations pledged to TAP. Donations are determined by multiplying the total miles completed x the amount pledged per mile. (Don't worry Trailcare does this on the fly!)
Beneficiary:
All proceeds will go to support the TAP trail maintenance fund and its myriad activities in Northwestern Arkansas.
Cost:
LuvTrails Events are free for all participants. It is free to register or sign up at www.trail.care. The only "cost" to participants is the amount pledged to donate per mile to TAP when they sign up. It can be anything from 1 cent to $100 or more per mile, depending on the ability to donate. The pledged amount can also be adjusted at any time during the event according to the participant's circumstances.
Registration:
There is NO registration fee. BUT in order to participate, you have to register at www.trail.care. Follow five easy steps. Click here for a SETUP-guide.
IMPORTANT: You have to tick the box in the setup process (Step 2) that authorizes Strava to share your activity data (not personal data) with Trailcare during the event. Without that permission, a participant's activities can NOT be recorded by Trailcare during the event. Also, your Strava activities must be set to public for you to appear on the event leaderboard.
4. Other
Sharing:
Please take pictures of your activities, especially if it was fun doing it on the trails. Share it on social media, like Facebook, Instagram, and Twitter with the hashtags #trailcare #luvtrails #TAP #wearetrailblazers #trailblazers  #traildonations #permiledonations or #luvtrailsevents. We might just surprise you with a special reward for doing that from our many rewards partners. Keep the fun in the social family and spread the trail LUV.
GPS devices:
You have to link a free, basic Strava account if you don't already have one. Remember, you don't have to record your activities with the Strava app if you don't want to. You can use your favorite non-Strava GPS device to record and just set up the device for automatic syncing with Strava. Every time you complete your ride your device will sync it immediately with Strava and Trailcare will capture the data to populate the leaderboard and calculate your donation. Here is a GUIDE on how to sync your device with Strava.